Westgate
Westgate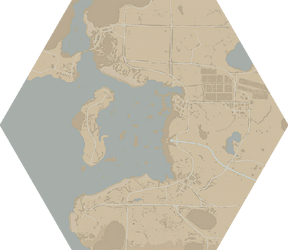 Information
| | | |
| --- | --- | --- |
| " | This rocky region is home to the westernmost keep along the steadfast Bulwark, a continental wall built to draw a southern border. South of the wall, the Ceo Highlands surround several villages which were once abandoned during the construction of the wall. The Bulwark has stood for hundreds of years in this contested region, and continues to stand the test of time. | " |
| | — In-game description | |
Westgate is a relatively flat map with some hills and rock formations. This region features a large vertical coast, a small island to the west and a massive wall (named the Bulwark) that runs east to west in the middle of the map. The map was added in Update 0.6.
In Update 0.12, the Static Base in Handsome Hideaway was removed along with all its production structures, except for the Medical Lab.
In Update 0.20, the already on other maps existing Observation Towers and the new structure Safehouses have been implemented to this map.
With Update 0.29 Border Forts has been removed and been repurposed as Zone Bases.
The Aging Ocean
Ash Step
Candle Hills
Cattle March
Ceo Highlands
Cinder Road
Coasthill
Coastway
Cobber's Lane
The Divide
Ember Hills
Fand's Chain
Fields of Badb
Flidais' Pasture
The Gallows
Handsome Hideaway
The Hem
Hillcrest
Holdfast
Inkwell Lane
Kardia Road
Killian Quarter
The King's Road
Kingstone
The Knight's Edge
Longstone
Lord's Mouth
Lost Partition
Rancher's Fast
Reaver's Cove
Sanctified Path
Sanctuary
Síochána Valley
Taswell Point
Triton's Curse
Warden Walk
Western Heartlands
Westgate Keep
Wire Road
Wyattwick
Zeus' Demise
Click on a region to open the corresponding page.
⧼imagemap_invalid_crd⧽