Versioning
This article could contain outdated information that is inaccurate for the current version (0.47) of the game. It was last updated for 0.42.
La Home Region sert de plateforme centrale pour tous les joueurs d'une faction. Elle est réinitialisée toute les 24 heures et envoie une notification 10 minutes avant chaque réinitialisation.
Cours de Formation
[
]
Il y a différents lieux de formation dans cette région, ils sont marqués sur la carte.
Basic Training

[

]
Le tutoriel qui permet aux nouveaux joueurs d'apprendre les bases du jeu, comme les contrôles, et l'utilisation des armes.
Logi Training

[

]
Il y a deux champs de Salvage, 1 de Components, un Construction yard, une Raffinerie, et une Usine (Factory) qui permet aux joueurs de s'entraîner à la production d'objets et mettent en avant l'aspect intégral que joue la Logistique dans la guerre du jeu.
Resource Training

[

]
Cette zone a les 4 types de Ressource sous la forme de Champs et de Mines de Ressource pour les tester.
Vehicle Training

[

]
Un terrain de conduite permet aux joueurs de jouer avec les Camions, les Bus, les Voitures Blindés (Armored Cars) et les Motos. Le circuit lui-même donne aux joueurs l'occasion de tester la tenue de route et les sensations de conduit dans le jeu, ainsi que les mécaniques de ravitaillement avec du carburant.
Watercraft Training

[

]
Un port sans shipyard vous permet de tester plusieurs type de bateaux et véhicules amphibies.
Spawn & Déploiement
[
]
Sur la Zone de Déploiement les joueurs peuvent sélectionner une région pour y aller, afin de rejoindre la Guerre de Conquête ou combattre dans la Phase de Résistance.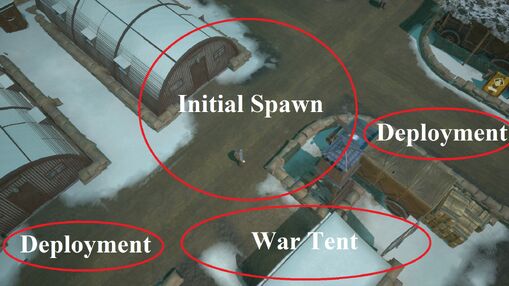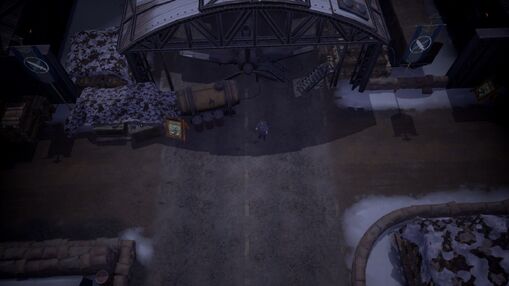 Tente de Guerre
[
]
Cette tente permet aux joueurs de voir toute la carte de la Guerre de Conquête. Sur la carte ils peuvent voir les Renseignements de leur faction, quelles villes leur faction contrôle, la positions des Forward Base alliées, et les champs et Mines de ressource.
Monuments
[
]
Chaque œuvre d'art en pierre sert de trophée pour montrer quelle faction a gagné les guerres précédentes.
Il y a 2 types de Monument:
Carte
[
]
Click on a region to open the corresponding page.