Versioning
This article could contain outdated information that is inaccurate for the current version (0.46) of the game. It was last updated for 0.45.
The Factory is a structure that produces crates

of weapons, ammunition, tools, Medical, and base Supplies using materials as input. Items are split into 6 categories at the factory: Small Arms

, Heavy Arms

, Utility

, Medical

, Resource

, and Uniforms

.
Only one order of items from a category can be produced at a time. Subsequent orders are queued. Orders can contain up to 4 crates and can be set to "personal" (only you can retrieve them once completed), "squad" (only members of your squad can), and "public". Orders listed in the Output window can be filtered by "personal"

, "squad"

, or "public"

type. Completed personal and squad orders become public if they aren't picked up after 30 minutes.
Items produced in the Factory are packed into crates. Items can not be used until the crate is submitted to a stockpile.
If an enemy town is captured, its factory can only be rebuilt once the "Industry"

Base Upgrade has been unlocked.
Interface
[
]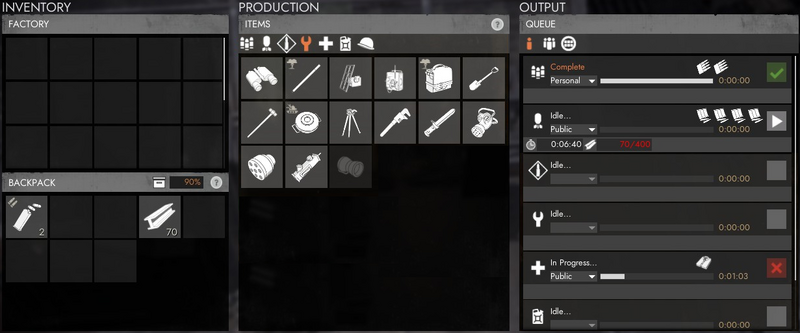 Craftable Items
[
]
Small Arms

[

]
Icon
Item

Cost
Time (seconds)
Faction

PT-815 Smoke Grenade
120




"Dusk" ce.III
10
165
80




"Lionclaw" mc.VIII
20
120
80




.44
40
40
40




12.7mm
20
100
70




7.62mm
40
80
50




7.92mm
30
120
60




8.5mm
10
150
100




8mm
40
40
20




9mm SMG
40
80
50




Aalto Storm Rifle 24
10
165
80




Argenti r.II Rifle
20
100
80




Blakerow 871
20
140
80




Booker Storm Rifle Model 838
10
165
80




Brasa Shotgun
20
120
80




Buckshot
40
80
50




Cascadier 873
20
60
50




Catara mo.II
10
165
80




Clancy Cinder M3
15
130
90




Clancy-Raca M4
5
200
15
125




Cometa T2-9
20
60
50




Fiddler Submachine Gun Model 868
20
120
80




Fuscina pi.I
20
140
80




KRN886-127 Gast Machine Gun
10

30
100




KRR2-790 Omen
15
155
1:30




KRR3-792 Auger
5
200
15
125




Malone MK.2
10

30
100




No.1 "The Liar" Submachine Gun
20
120
80




No.2 Loughcaster
20
100
70




Sampo Auto-Rifle 77
20
125
70




The Hangman 757
20
125
80




Volta r.I Repeater
15
100
1:30




"The Pitch Gun" mc.V
20
80
80



Heavy Arms

[

]
Icon
Item

Cost
Time (seconds)
Faction

20 Neville Anti-Tank Rifle
5
150
37




Cremari Mortar
5
100
25
50




Green Ash Grenade
10
140
100




Mammon 91-b
20
100
10
80




120mm
5
60
15
55




150mm
5
120
10
65




20mm
10
100
100




250mm
5
120
25
150




300mm
5
135
30
125




30mm
20
80
20
100




40mm
20
160
120
200




68mm AT
20
120
120
200




A.T.R.P.G. Indirect Shell
15
60
75
112




A.T.R.P.G. Shell
15
60
75
112




A3 Harpa Fragmentation Grenade
20
100
20
100




Anti-Tank Sticky Bomb
10
50
50
75




BF5 White Ash Flask Grenade
15
100
50
75




Bane 45
5
150
45
125




Bomastone Grenade
25
100
20
100




Bonesaw MK.3
5
100
25
125




Cutler Launcher 4
5
100
25
50




Daucus isg.III
5
150
125




Ignifist 30
15
60
50
112




Mortar Flare Shell
15
60
10
112




Mortar Shell
15
60
35
112




Mortar Shrapnel Shell
15
60
15
112




Mounted Bonesaw MK.3
5
200
250




R.P.G. Shell
15
60
75
112




Venom c.II 35
5
100
25
50




Warhead
1

200
1000
600



Utility

[

]
Icon
Item

Cost
Time (seconds)
Faction

Buckhorn CCQ-18
20
40
30




Abisme AT-99
10
100
10
100




Alligator Charge
5
100
15
100




Binoculars
5
75
50




Gas Mask Filter
20
100
50




Gas Mask
20
160
100




Hydra's Whisper
5
100
40
100




Radio Backpack
5
150
75




Radio
5
100
50




Rocket Booster
1

800
600




Shovel
10
200
100




Sledge Hammer
10
200
100




Wrench
5
75
50



Medical

[

]
| Icon | Item | | Cost | Time (seconds) | Faction |
| --- | --- | --- | --- | --- | --- |
| | Bandages | 80 | 160 | 100 | |
| | Blood Plasma | 80 | 80 | 40 | |
| | First Aid Kit | 10 | 50 | 35 | |
| | Soldier Supplies | 10 | 80 | 80 | |
| | Trauma Kit | 10 | 80 | 50 | |
Resource

[

]
| Icon | Item | | Cost | Time (seconds) | Faction |
| --- | --- | --- | --- | --- | --- |
| | Bunker Supplies | 150 | 75 | 240 | |
| | Garrison Supplies | 150 | 75 | 240 | |
Uniforms

[

]
| Icon | Item | | Cost | Time (seconds) | Faction |
| --- | --- | --- | --- | --- | --- |
| | Engineer Uniform | 20 | 100 | 90 | |
| | Soldier Uniforms | | | | |
| | Grenade Uniform | 20 | 100 | 90 | |
| | Heavy Ammo Uniform | 20 | 100 | 90 | |
| | Medic Uniform | 20 | 100 | 90 | |
| | Rain Uniform | 20 | 100 | 90 | |
| | Scout Uniform | 20 | 100 | 90 | |
| | Snow Uniform | 20 | 100 | 90 | |
| | Tank Uniform | 20 | 100 | 90 | |