Versioning
This article could contain outdated information that is inaccurate for the current version (0.49) of the game. It was last updated for 0.48.
The Factory is a structure that produces crates

of weapons, ammunition, tools, Medical, and base Supplies using materials as input. Items are split into 7 categories at the factory: Small Arms

, Heavy Arms

, Heavy Ammunition

, Utility

, Medical

, Resource

, and Uniforms

.
Only one order of items from a category can be produced at a time. Subsequent orders are queued (up to 6 per category). Orders can contain up to 4 crates and can be set to "personal" (only you can retrieve them once completed), "[squad name]" (only members of that squad can), and "public". Orders listed in the Output window can be filtered by "personal"

, "squad"

, or "public"

type. Completed personal and squad orders become public if they aren't picked up after 60 minutes.
Items produced in the Factory are packed into crates. Items can not be used until the crate is submitted to a stockpile.
If an enemy town is captured, its factory can only be rebuilt once the "Industry"

Base Upgrade has been unlocked.
Unlike the Refinery and Mass Production Factory, the factory does not have a loading zone to deposit Shippables like Shipping Containers, meaning the factory can't directly interact with them.
Crate production times listed below are the default times however production times scale with world population and may be shorter or longer.
You can check the status of each individual production queue of a given factory by putting your cursor on that factory's icon on the map (press M).
Interface
[
]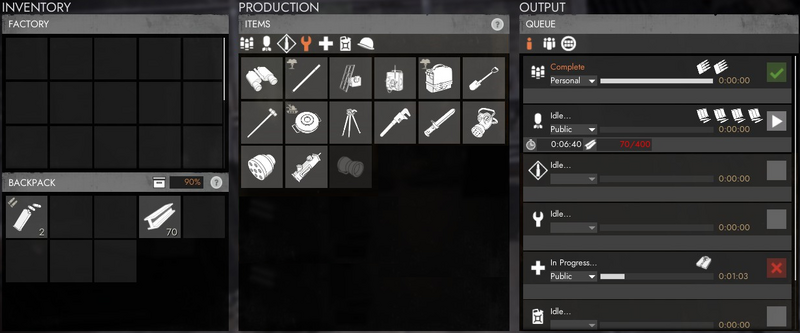 Craftable Items
[
]
Small Arms

[

]
Heavy Arms

[

]
Heavy Ammunition

[

]
Utility

[

]
Medical

[

]
Resource

[

]
Uniforms

[

]