All player made structures start to suffer from decay after a grace period. Decay slowly damages structures until they're destroyed. The duration of the grace period depends on the structure type but is usually around one day. The time it takes for decay to fully destroy a structure also depends on its type but is usually around one day as well.
To prevent decay, the structure must be connected to a base (within its AI range) that has the Small Garrison
upgrade unlocked and that is stockpiled with Garrison Supplies (bunker structures can alternatively use Bunker Supplies). The prevention slowly consumes those supplies at a rate of 2 per structure per hour. The rate is reduced to 1 if the Large Garrison

upgrade is unlocked. The add-ons on Trenches and Bunkers do not count as separate structures.
You can check the health percentage of a structure with your hammer equipped and switched to "Upgrade Mode" (with F). Repairing a decayed structure partially resets the grace period, proportionally to how much health you repaired.
Decay affects all player placed structures, including deployed tripods and shippables (containers, emplacements, etc...). Anti-Tank Mines and unfinished structure blueprints are also affected by decay but their decay cannot be prevented. World structures (what players can't create, e.g. Garrisoned Houses, Town Bases, Resource Mines, etc...) are not affected by decay. The only exception are Border Bases due to the Frontier Border mechanic.
Rapid Decay Zone
[
]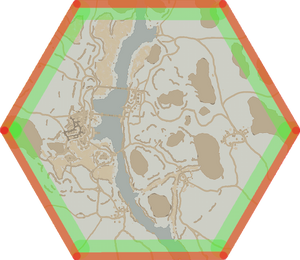 Structures built within 150m from a region border suffer from rapid decay. Trying to place a structure blueprint in that area will show you a warning. Rapid decay cannot be prevented and the grace period and decay duration are much faster (only a few hours). The only exceptions are if the structure is within the 40m radius of a Resource Field, or within the AI radius of a Border Base or World Base.
Decay Duration per Structure Type
[
]