Versioning
This article may contain outdated information that is inaccurate for the current version (0.45) of the game. It was last updated for 0.43.
In Foxhole exists a wide variety of Weapons, Ammunition and Utility items that each have own uses as such it is important to have a good supply of these. The most effective and efficient way of keeping supply high is by Crafting what is needed. Crafting is done at the Factory, Mass Production Factory.
Supply Flow
[
]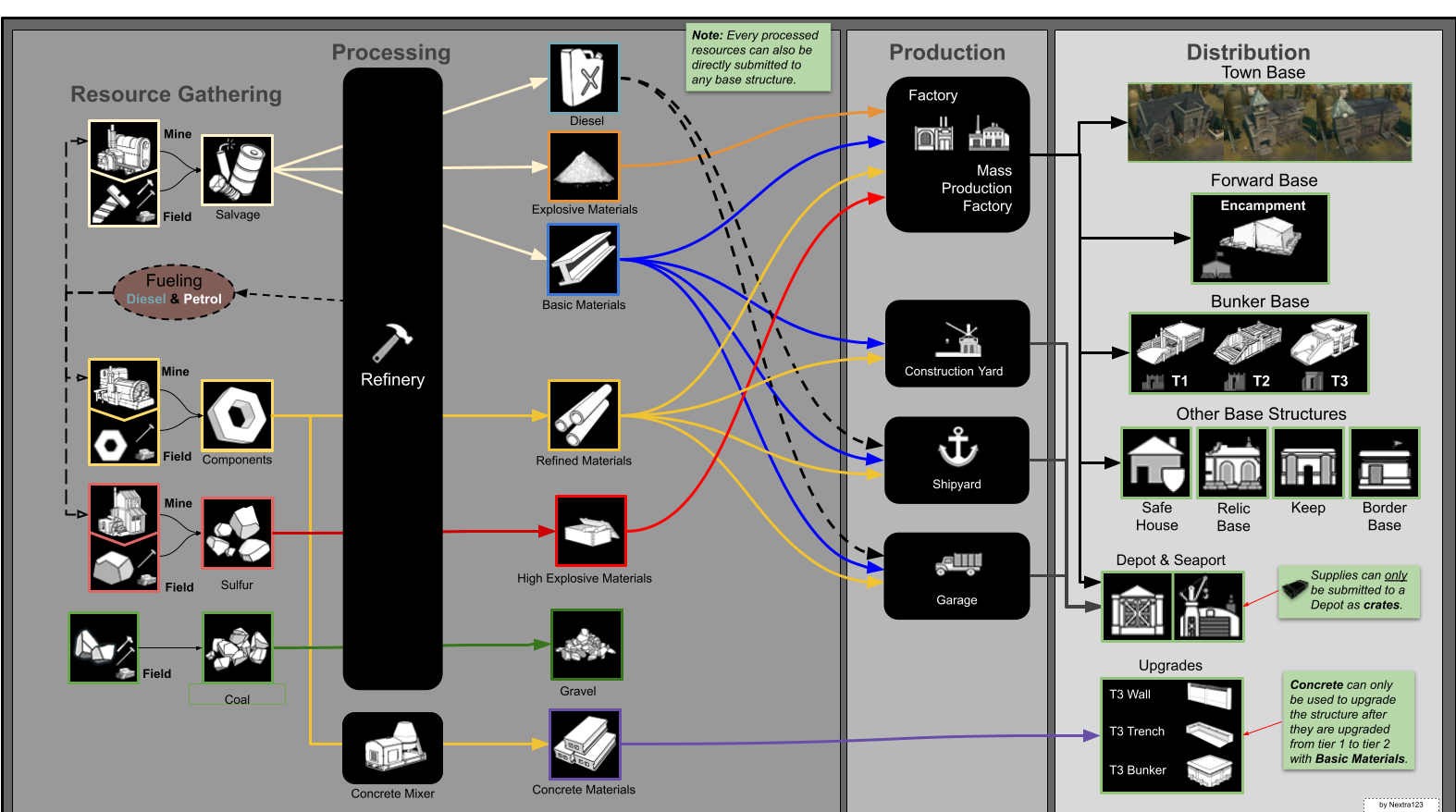 In order to craft items, raw materials must first be processed in a Refinery. The refining costs vary depending on the finished good. Refining can be ordered in parallel by different Players, or output to a public stock.
Raw
Refined
Refined stack
(per left click)
Ratio
Time per stack (min)
Max queue storage

(refined in personal queue)

Salvage
Basic Materials
20
2:1
0:06
10,000
Salvage
Diesel
10
10:1
0:12
5,000
Salvage
Explosive Materials
100
10:1
5:33
5,000
Components
Refined Materials
20
20:1
0:40
5,000
Crude Oil
Petrol
3
3:1
6:00
5,000
Sulfur
Heavy Explosive Materials
20
20:1
1:00
5,000
Iron
Iron Alloy
?
1:1
?
?
Aluminum
Aluminum Alloy
?
1:1
?
?
Requires Concrete Mixer:
Small Arms Facility

[

]
Icon
Item

Cost
Time (seconds)
Faction

"Dusk" ce.III
10
165
?




"Lionclaw" mc.VIII
20
120
?




.44
40
40
40




7.62mm
40
80
50




7.92mm
30
120
60




8.5mm
10
150
100




8mm
40
40
20




9mm SMG
40
80
50




Aalto Storm Rifle 24
10
165
80




Argenti r.II Rifle
20
100
80




Blakerow 871
20
140
80




Booker Storm Rifle Model 838
10
165
80




Brasa Shotgun
20
120
80




Buckshot
40
80
50




Cascadier 873
20
60
50




Catara mo.II
10
165
80




Clancy-Raca M4
5
200
15
125




Cometa T2-9
20
60
50




Fiddler Submachine Gun Model 868
20
120
80




Fuscina pi.I
20
140
80




KRR3-792 Auger
5
200
15
125




No.1 "The Liar" Submachine Gun
20
120
80




No.2 Loughcaster
20
100
70




PT-815 Smoke Grenade
10
120
75




"The Pitch Gun" mc.V
20
80
80



Heavy Arms Facility

[

]
Icon
Item

Cost
Time (seconds)
Faction

12.7mm
20
100
70




120mm
5
60
15
55




150mm
5
120
10
65




20 Neville Anti-Tank Rifle
5
150
37




20mm
10
100
100




250mm
5
120
25
150




300mm Round
5
135
30
125




30mm
20
80
20
100




40mm
20
160
120
200




68mm AT
20
120
120
200




A.T.R.P.G. Indirect Shell
15
60
75
112




A.T.R.P.G. Shell
15
60
75
112




A3 Harpa Fragmentation Grenade
20
100
20
100




BF5 White Ash Flask Grenade
15
100
50
75




Bane 45
5
150
45




Bomastone Grenade
25
100
20




Bonesaw MK.3
5
100
25




Cremari Mortar
5
100
25
50




Cutler Launcher 4
5
100
25
50




Daucus isg.III
5
150
125




Green Ash Grenade
10
140
100




Ignifist 30
15
60
50




KRN886-127 Gast Machine Gun
10

30




Malone MK.2
10

30




Mammon 91-b
20
100
10
80




Mortar Flare Shell
15
60
10
112




Mortar Shell
15
60
35
112




Mortar Shrapnel Shell
15
60
15
112




Mounted Bonesaw MK.3
5
200
250




R.P.G. Shell
15
60
75
112




Venom c.II 35
5
100
25




Anti-Tank Sticky Bomb
10
50
50
75




Warhead
1 (unit)

200
1000
600



Utility Facility

[

]
Icon
Item

Cost
Time (seconds)
Faction

Abisme AT-99
10
100
10
100




Alligator Charge
5
100
15
100




Buckhorn CCQ-18
20
40
30




Hydra's Whisper
5
100
40
?




Binoculars
5
75
50




Gas Mask Filter
20
100
50




Gas Mask
20
160
100




Radio Backpack
5
150
75




Radio
5
100
50




Rocket Booster
1 (unit)

800
600




Shovel
10
200
100




Sledge Hammer
10
200
100




Wrench
5
75
50



Medical Facility

[

]
| Icon | Item | | Cost | Time (seconds) | Faction |
| --- | --- | --- | --- | --- | --- |
| | Bandages | 80 | 160 | 100 | |
| | Blood Plasma | 80 | 80 | 40 | |
| | First Aid Kit | 10 | 60 | 35 | |
| | Trauma Kit | 10 | 80 | 50 | |
Supplies Facility

[

]
| Icon | Item | | Cost | Time (seconds) | Faction |
| --- | --- | --- | --- | --- | --- |
| | Bunker Supplies | 150 | 75 | 150s (2.5 minutes) | |
| | Garrison Supplies | 150 | 75 | 150s (2.5 minutes) | |
| | Soldier Supplies | 10 | 80 | 80 | |